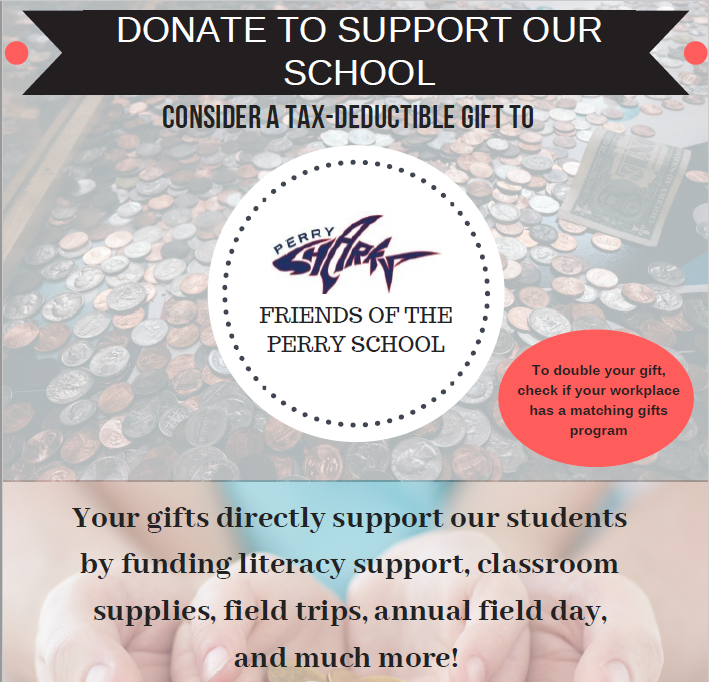 DONATE
If you would like to donate to the Perry School, please click on the "donate" tab and fill out the requested information. All donations to the Friends of the Perry School are 100% tax deductible and go directly to supporting our fantastic students and extraordinary teachers. If you have any questions or difficulty making your gift, please contact perryschoolsouthie@gmail.com.
Alternative donation method: If you wish to make a donation to the Perry School via check, please send checks to the Perry School, c/o Friends of the Perry School, 745 East Seventh Street, South Boston, MA 02127.

GIVING PROGRAMS
Matching Gift Program
: This is an "easy" way to increase our fundraising efforts. Please contact your Human Resources Office to determine whether a charitable Matching Gift program exists at your company. If there is, please consider completing the required paper work that will enable them to match your generous donation.
Yankee Candle Sales
: Each year, students and families have the opportunity to buy and sell Yankee Candles to friends and family. A significant portion of Yankee Candle sale proceeds go to benefit The Perry School!
Online ordering will be open until January 9th and orders will be delivered directly to the purchasers home. Shop at
yankeecandlefundraising.com using Group Number 990044665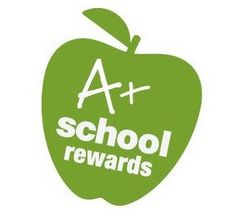 Stop and Shop A+ Rewards:
You can sign up for Stop and Shop A+ rewards and support Perry School every time you use your Stop and Shop card (even when you shop Peapod) between September 7, 2018 and March 16, 2019! To support a school (up to two schools can be supported) you need your 13-digit Stop & Shop Card number found on the back of the card. Visit
www.stopandshop.com/school-rewards
click on SIGN IN, MANAGE MY ACCOUNT, SAVINGS & REWARDS, to create or log into your on-line account.

Shop AmazonSmile
: AmazonSmile is operated by Amazon with the same products, prices, and shopping features as Amazon.com. The difference is that when you shop on AmazonSmile, the AmazonSmile Foundation will donate 0.5% of the purchase price of eligible products to The Friends of the Perry!
You can link your amazon account using this link
smile.amazon.com/ch/82-3025265
Start shopping today at
smile.amazon.com
!!

Mabel's Labels Fundraiser
: Clothing labels, name labels for lunch boxes and containers, allergy labels, medical labels, bag tags and more! Going to camp, preparing for next school year, whatever the reason- shop our fundraiser through Mabel's Labels and 20% of your purchase will go to Friends of Perry! Labels are fully customizable and get shipped right to your home! Start shopping and be sure to select "Friends of the Perry School (South Boston)" from the list.
https://mabelslabels.com/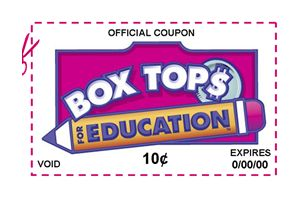 Box Tops for Education:
Save your Box Tops! Any time you see a Box Top for Education (General Mills products, Kleenex, Pillsbury products…just to name a few places) cut it out and save it.
Clip Box Top coupons from hundreds of grocery products and send them into school in your child's school folder.
Attach them to the other side of collection sheet page or put them in a bag. Be sure to include your name and grade and bring them to school by October 15th. The class with the most box tops will receive a prize! For each box top that we submit we get 10 cents, so get your friends and family to save them too! To find participating products and to see how much money we raised last year visit
www.boxtops4education.com/
BoxTopeducation_collectionsheet_50.pdf
GIVING EVENTS
Annual Parents' Night Out:
At the start of each school year, the Friends of the Perry School hosts a casual parents' night out for Perry School parents to get to know one another, catch up with friends, and support the Perry School.
Friends & Family Skate Night:
In January, the Perry School holds its Annual Friends & Family Skate Night at the Murphy Rink in South Boston. This event brings over 200 Perry School families and members of the South Boston community together for a fun evening of ice skating, raffles, prizes, food and refreshments. "Blades" from the Boston Bruins was also on hand to skate and take pictures.
Spring "Perry School Rocks" Event:
Every year, the Friends of the Perry School hosts the "Perry School Rocks" event to benefit the Perry School. This event features South Boston's own Thomas Park Band, silent auctions, raffles, drinks and dancing. All are welcome at this event to celebrate and benefit the Perry School. This year's "Perry School Rocks" fundraiser will be held on March 23, 2019 at the "Social Register" on D Street in South Boston . The Perry School community will be honoring Massachusetts State Senator Nick Collins for his support for the Perry School. Ticket information can be found on the "events" tab.