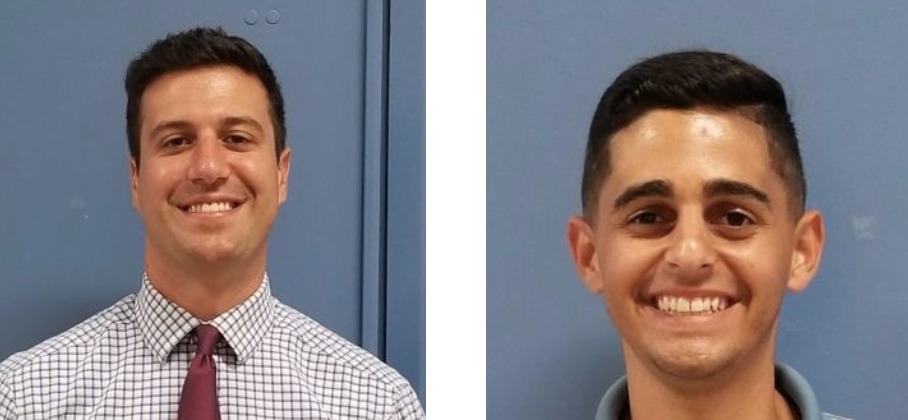 Mr. Geoff Rose (left) became principal at the Perry School during the 2013-14 school year, while Mr. Michael Macchi has served as assistant principal at the Perry since the 2018-19 school year and is currently a principal fellow. The pair can often be seen in schoolyard, school halls and most importantly classrooms of the Perry lending guidance and support to the students and staff.
THE LATEST FROM THE DESK OF MR. ROSE:
Dec. 1, 2019

Dear Perry K-8 Students and Families,
I hope all is well and everyone had a restful, relaxing and gratitude-filled Thanksgiving! As we begin the busy month of December, we look forward to supporting and positively recognizing all of our students' growth!
Here are a few important updates for our families, students and school community:
Social & Emotional Learning (SEL) Focus: Gratitude & Giving - We use the resources within our families, school and community to support our families, school, and community.
Giving Tuesday - Tuesday, Dec. 3: Thanks to all members of our community for continuing to support the Perry vision to "positively promote the learning of the whole child". This year, the Perry School is participating in Giving Tuesday. Please see the flyer here: Perry Giving Tuesday Flyer:

If you give $50, a matching donor gives $50, Facebook gives $50! Check out the Perry School Facebook page starting at 8 AM on December 3rd and have your gift triple matched!
Online donations can be made at www.perryschoolboston.org/donations
Check donations can be sent directly to the school!
December Gratitude & Giving Initiatives: We expect to continue to model and support our students to understand the importance of giving to support others. Please see two initiatives the Perry is supporting:

Globe Santa Drive: Dec. 2-12: We are participating in a drive to bring books and toys to children in need. See more information here: https://globesanta.org/
Holiday Sock Drive: Dec. 2-19: Our school community will be collecting socks for those in need. Please bring in any new socks and put them in the box outside the main office!
Winter Performance - Wednesday, Feb. 12th (2:45-3:45 PM): Based on feedback from families and staff last year, we will NOT be having our Winter performance in December.
November Attendance Successes: The following homerooms had the highest Average Daily Attendance Percentages over the past month - Great work all students, staff and families!
K1-2 Homerooms: Mrs. Nee (K1): 94.9%
Grades 3-5 Homerooms: Mrs. Sirois (Grade 4): 95.4%
Grades 6-8 Homerooms: Ms. Caster/Mrs. Peckham (Grade 8): 95.5%
Thanks for your time and efforts as we continue to work hard, respect all and continue our Perry Pride!