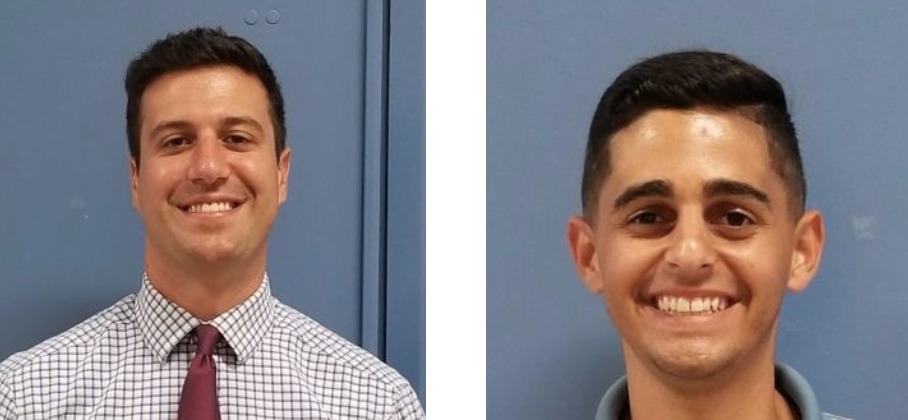 Mr. Geoff Rose (left) became principal at the Perry School during the 2013-14 school year, while Mr. Michael Macchi has served as assistant principal at the Perry since the 2018-19 school year and is currently a principal fellow. The pair can often be seen in schoolyard, school halls and most importantly classrooms of the Perry lending guidance and support to the students and staff.
THE LATEST FROM THE DESK OF MR. ROSE:
Jan. 6, 2020

Dear Perry K-8 Students and Families,
Happy New Year to all students, staff, and families! Sorry for the delay in sending out our January Letter and our January 2020 Calendar.
I hope everyone had a great (and extended) holiday vacation as we look forward to re-launching our student-focused and standards-aligned work.
Here are a few important updates for our families, students and school community:
Social & Emotional Learning (SEL) Focus: Overcoming Obstacles & Achieving Goals - As we launch 2020, we expect all of our teachers to continue to plan lessons that integrate these two SEL standards into the tasks and discussions:

Motivate oneself to overcome obstacles and achieve personal and academic goals
Recognize personal beliefs, judgements and biases
Perry School Structure Update: As we continue to work hard to educate all of our students, we are also planning for the 2020-2021 school year. Here are some updates:

Next school year, we will begin the transition to our K-6 school structure so we will not have a 7th grade Homeroom. As a result, all of our Grade 6 families will be participating in the School Choice Process beginning this week.
Our current 7th grade students will remain at the Perry for 2020-2021 and will be the final cohort of students to "move on" to high school.
For the 2020-2021 school year, we will also be starting a new K0/K1 early childhood special education homeroom. This homeroom will have up to 9 students with disabilities (3 and 4 year olds) and will have one teacher and one paraprofessional
Winter Performance - Wednesday, February 12th (2:45-3:45 PM): We pushed back our winter performance to later in the school year and are excited to see all of our K1-5th grade on stage performing! All families and community members are welcome to attend!
December Attendance Successes: At our Perry Pride Assemblies on Friday, December 20th, we positively recognized all of the students who had perfect attendance during the first 4 months of school - congratulations! The following homerooms had the highest Average Daily Attendance Percentages over the past month - Great work all students, staff and families!
K1-2 Homerooms
Grades 3-5 Homerooms
Ms. Felix Grade 1): 97.83%
Ms. Kiddie (Grade 3): 97.02%
Mrs. Sirois (Grade 4): 95.7%
Thanks for your time and efforts as we continue to work hard, respect all and continue our Perry Pride!
Sincerely,
Mr. Rose
Perry K-8 School Principal